COVID-19 Testing in Sewage
The Science
Early into the COVID-19 pandemic doctors reported finding RNA fragments of the COVID-19-causing SARS-CoV-2 virus in the stool of symptomatic patients. Soon after a study conducted in the Netherlands was the first to detect fragments of the virus in sewage¹.
At that time, COVID testing of individual patients could not keep up with demand, thus monitoring SARS-CoV-2 in wastewater presented the alternative of testing infection rates community-wide. This spurred an unseen number of scientific studies that assessed the applicability of wastewater monitoring including validating primer sets, optimizing concentration methods, and refining analytic steps.
The results are clear: SARS-CoV-2 testing in wastewater can indicate community-wide infections days before increases in Covid cases are reported. In the current state of the pandemic, this opens several use cases².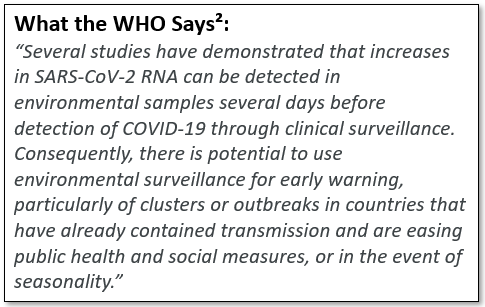 ---
References:
¹Medema, G., Heijnen, L., Elsinga, G., Italiaander, R. and Brouwer, A., 2020. Presence of SARS-Coronavirus-2 in sewage. MedRxiv.
²WHO Status of environmental surveillance for SARS-CoV-2 virus, Scientific Brief, 7 August 2020